All Media
10 November 2023
MatchMove's Shopmatic Partners with ANEXT Bank to Offer Seamless Embedded Financing Solutions for SME.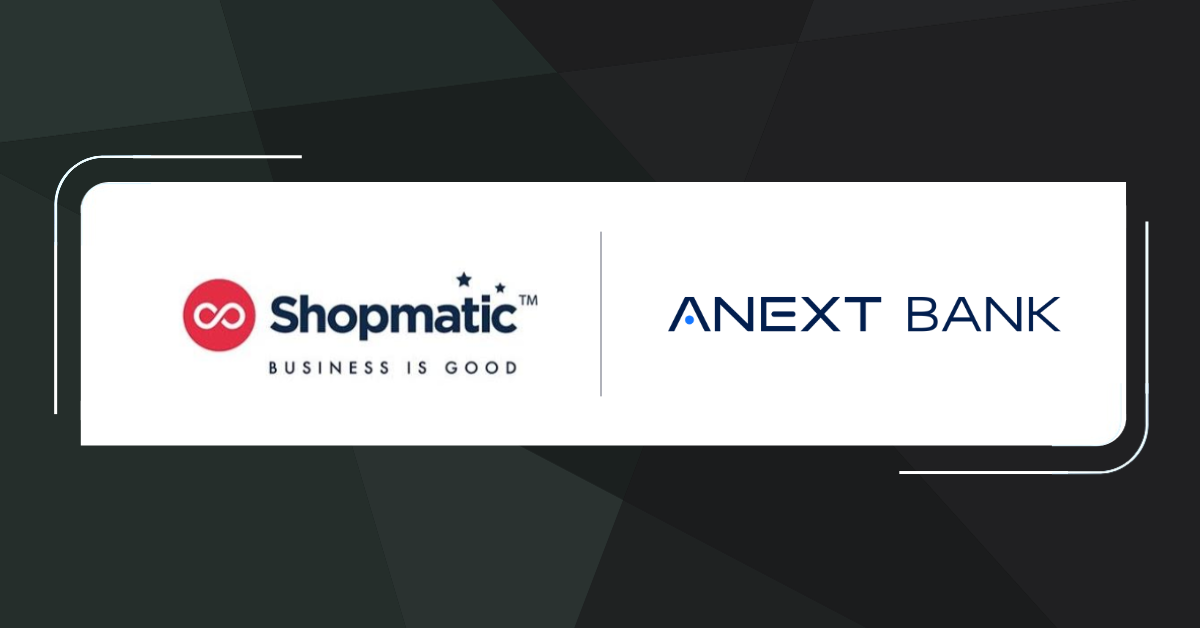 SMEs can now apply for financing directly from the Shopmatic platform for up to S$300,000, with no additional document submission required for loans below S$30,000
SINGAPORE – 10 November 2023 – MatchMove-owned leading global e-commerce platform Shopmatic, today unveiled its partnership with ANEXT Bank, a digital wholesale bank incorporated in Singapore and a wholly-owned subsidiary of Ant International. This partnership stems from a shared vision of scaling financial access for small and medium-sized enterprises (SMEs) and addresses their critical need for adaptable funding amid variable business demands and market conditions.
The collaboration between the two companies aims to offer SMEs access to ANEXT Bank's financing solutions directly through the Matchmove-powered Shopmatic platform. Shopmatic's SME clients can enjoy benefits such as:
Seamless access to credit: They can get financing directly within the Shopmatic platform, eliminating the need to source from multiple finance providers, navigating multiple platforms or channels, and saving merchants time, stress, and uncertainty.
Simplifying business operations: Upon approval, loans will be directly disbursed into the merchant's Shopmatic Pay wallet, which has a linked Mastercard embedded by Matchmove. This functionality enables them to immediately use the loan for their business purchases, therefore boosting operational efficiency and resource optimisation. Further enhancements are underway to allow businesses to repay loans directly through the platform.
Micro financing to boost business growth: Shopmatic's SME clients can enjoy flexible loan amounts to fit their business needs starting from as little as S$5,000, up to S$300,000, catering specifically to the needs of emerging, small and micro businesses. Merchants can also strategically use these funds to boost inventory for peak seasons and festive sales, ensuring they can meet demand and increase revenue.
Nicole Poon, Chief Operating Officer of Shopmatic, emphasised the significance of this partnership, "At Shopmatic, we recognise the unique financial challenges that emerging businesses face. By teaming up with ANEXT Bank, who shares the same innovative DNA and goal of enabling SMEs' growth, we're taking a significant step towards making sophisticated financial solutions more straightforward and accessible directly on Shopmatic Pay. Our merchants on the Shopmatic platform now get to access funds easily for setting up their business, managing inventory re-orders and running marketing campaigns to grow their online businesses. Our goal is to ensure that every business, regardless of its size, has the resources it needs to thrive and flourish in the ever-evolving competitive e-commerce landscape."
Toh Su Mei, Chief Executive Officer of ANEXT Bank, also shared, "The goal of the ANEXT Programme for Industry Specialists is to address the diverse needs that SMEs face by delivering precise support through close collaboration with industry partners who have a first-hand view of their customers' pain points. We're excited to welcome Shopmatic to the programme to give their SME customers a leg up to manage their day-to-day business better or aid their regional expansion with financing. By understanding the challenges SMEs face through partners like Shopmatic, we can further enhance the programme and our products to serve even more partners and their customers."
In celebration of this partnership, the first 100 Shopmatic customers expressing interest in the financial solution will enjoy a waiver on the facility fee which translates into savings of up to S$3,000 when they apply for financing through the platform.
###
About Shopmatic
Shopmatic, a MatchMove Group company, is a leading global e-commerce platform that empowers merchants to build and grow their businesses online. With a focus on simplicity and ease of use, Shopmatic offers an intuitive platform allowing merchants to create their online stores and sell their products and services to customers worldwide. Powered by MatchMove and available as both digital and physical cards, Shopmatic Pay enables merchants to transact with businesses that accept Mastercard payments.
About MatchMove
MatchMove is a leading global fintech and digital commerce infrastructure provider, offering a range of innovative technology solutions to help businesses digitalise rapidly. MatchMove's products enable any business of any size to immediately enhance their digital commerce strategy and to quickly embed digital financial services within their existing customer experiences. The company's solutions drive new revenue streams and save costs for their clients and are relied on by many leading Southeast Asian brands. Headquartered in Singapore, MatchMove has operations in 7 countries across Asia.
About ANEXT Bank
Incorporated in Singapore, ANEXT Bank is one of the two successful applicants to receive the digital wholesale banking licence issued by the Monetary Authority of Singapore and focuses on providing innovative and secure digital financial services to local and regional micro, small and medium enterprises (SMEs) to aid their growth and global expansion.
Through continuous technology-driven innovation, ANEXT Bank is dedicated to accelerating fintech development and financial inclusion in Singapore and the region. Adopting an open and collaborative approach, ANEXT Bank believes in joining hands with industry partners and public sector agencies to provide SMEs with financial services that are simpler, safer and more rewarding.
ANEXT Bank is a wholly-owned subsidiary of Ant International. Ant International strives to enable all consumers and small businesses to have equal access to financial and other services through technologies, such as blockchain, artificial intelligence, security, the Internet of Things, and cloud computing.
For more information on ANEXT Bank, please visit www.ANEXT.com.sg.

For media inquiries, please contact:
Penta Asia, on behalf of MatchMove
Scott Lai, on behalf of ANEXT Bank