All Media
11 June 2020
MatchMove and KPMG partner with Expand Group to facilitate e- remittance for foreign migrant workers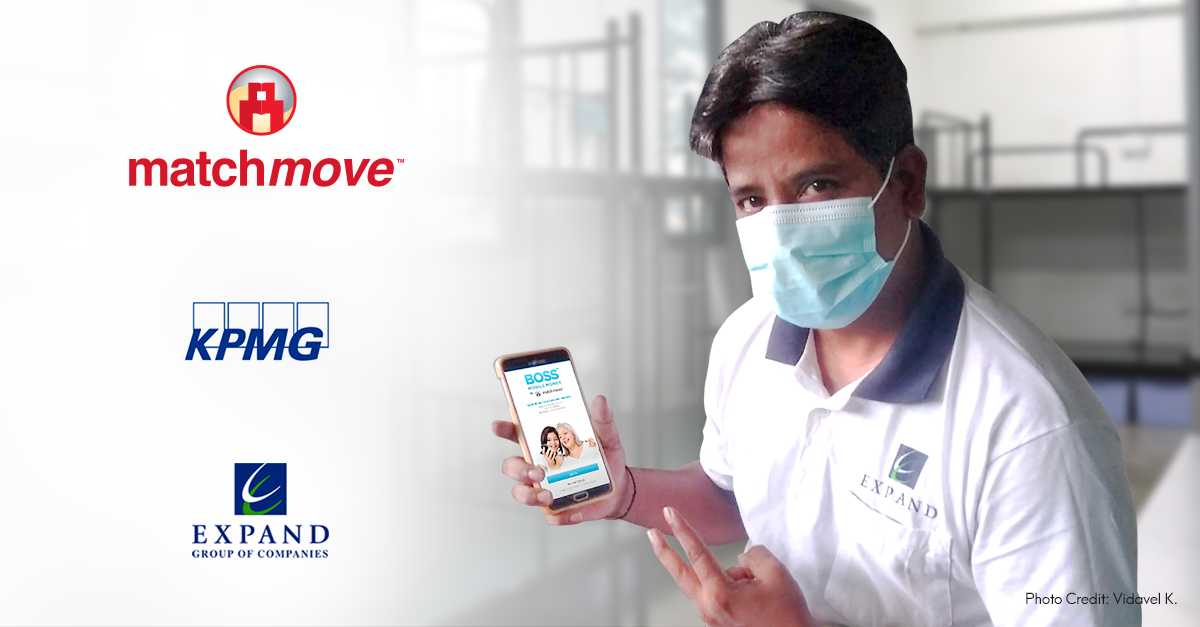 Singapore, 11 June 2020 – MatchMove, one of the pioneer Singapore-headquartered fintech companies offering a 'Banking-as-a-Service' platform and KPMG, today announced their partnership with the Expand Group, a leading homegrown building construction group with integrated civil engineering and construction support service capabilities, to facilitate Employer Assisted contactless e-remittance for foreign migrant workers quarantined in dormitories.
The COVID-19 pandemic and heightened number of cases amongst the foreign migrant worker segment has led to them being quarantined in dormitories. As they are unable to leave their dormitories due to the Stay Home Notice, they are unable to make the trip to their usual remittance centres. This situation has accelerated the adoption of cashless digital payments among the foreign migrant workers.
In support of the Government initiative to support the migrant worker community, MatchMove and KPMG are collaborating with Expand Group to onboard their foreign migrant workers onto the Boss Mobile Money remittance application and training them virtually so they can carry out the transaction at ease. Expand Group, currently employs about 1000 foreign migrant workers, all of whom are currently quarantined in various dormitories. In recognising the challenge faced by foreign workers, KPMG spearheaded this digital solution with MatchMove, and has donated cash to pre-load the wallet with a sum to cover transaction fees for this pilot phase. A number of dormitory residents have already successfully been onboarded onto Boss Mobile Money and can now perform transactions to remit money back to their families in India and the Philippines. KPMG continues to seek support from like-minded corporates and individuals for this cause.
MatchMove's Boss Mobile Money application is a B2C application that enables cross-border transactions safely and securely to more than 10 countries including India, Bangladesh and the Philippines. The application is also popular amongst the foreign migrant worker segment due to its user-friendly experience and multi-language instructions, not to mention competitive rates.
"The ongoing pandemic has made us realise the urgent need for our quarantined workers to adopt relevant digital tools to ensure their lives and their families are not disrupted. It is encouraging to see fintechs and corporates such as MatchMove and KPMG stepping forward to empower and educate our workers, to ensure they are able remit in a seamless and fuss-free manner. We look forward to onboarding more of our workers on MatchMove's Boss Mobile Money remittance application in time to come," shares Von Lee, Founder and Chairman of Expand Group of Companies.
Announcing the same, Shailesh Naik, Founder and Group CEO of MatchMove commented, "This initiative is aligned to MatchMove's core values of improving the quality of people's digital life and giving them access to essential financial services wherever they are. In these challenging times, we are fortunate to have a solution to help those in need fulfil their commitments to their family."
"For our foreign workers who are quarantined, we understand that a key concern is their ability to send funds back home, which is often via brick-and-mortar remittance services.", said Bob Yap, Head of Deal Advisory at KPMG Asia Pacific. "To help ensure their families continue to receive monies easily and quickly whilst keeping safe, KPMG leveraged our digital expertise, client network and collaboration with MatchMove to deliver this solution", explained Yap, who leads a group in KPMG supporting social causes and charities impacted by COVID-19.
About MatchMove
MatchMove is one of the world's fastest growing and most disruptive fintech companies in digital payments and next-generation banking.
MatchMove's proprietary Banking Wallet OSTM enables 'Banking-As-A-Service' and the capabilities of Spend.Send.Lend™ within any app. The platform empowers businesses and their customers to Spend both online and offline easily and safely, via instantly issued prepaid cards on major card networks. Its Send capabilities include P2P domestic transfers, cross-border remittances, P2M and mass disbursements to global recipients. MatchMove's platform further extends to Lend, where credit scores are assigned based on customers' spending and sending patterns to offer customised lending solutions.
Envisioning a financially inclusive world as it wages war on cash, MatchMove's solutions help enterprise clients digitise payments and give the financially underserved segments the empowerment to move their money anytime and anywhere.
MatchMove is licensed by the Monetary Authority of Singapore and authorised by leading card networks to issue virtual and physical cards directly to users in approved jurisdictions, or anywhere else in the world with partner banks.
The company has been recognised with international awards for being a promising and an innovative organisation, as well as for being a preferred employer.
MatchMove is headquartered in Singapore with offices in India, Indonesia, Vietnam and the Philippines. For more information, please visit www.matchmove.com.
About KPMG in Singapore
KPMG is a global network of professional services firms providing Audit, Tax and Advisory services. We operate in 147 countries and territories and have more than 219,000 people working in member firms around the world. The independent member firms of the KPMG network are affiliated with KPMG International Cooperative ("KPMG International"), a Swiss entity. Each KPMG firm is a legally distinct and separate entity and describes itself as such.
For more information, visit www.kpmg.com.sg
About Expand Group
Expand Construction Pte Ltd was established on July 8th, 2000. From a humble beginning, Expand grew in leaps and bounds from a BCA C3 CW01-category company to an A1 CW01-category and A2 CW02-category in 2011 over a span of 10 years. Expand also diversified to M&E Works under its fully-owned subsidiary Evergreen Engineering, a BCA L6 ME05-category company, that is unlimited in tendering capacity.
Expand Group is one of Singapore's major home-grown building construction groups with integrated civil engineering and construction support service capabilities. The Group is principally involved in the construction of residential, industrial and special niche projects as a main contractor. It has since built-up an impressive track records of notable and iconic projects with excellent performance and high-quality products and services to its clients. Expand is accredited with ISO 9001, ISO 14001 and SS506/OHSAS 18001 Certification. It upgraded from OHSAS to ISO 45001 in 2018.
For more information, visit www.expandgroup.com.sg
Rifdi Jaffar
Associate
Asia PR Werkz
Email: rifdi@asiaprwerkz.com
Ian Lloyd
Marketing Director MatchMove
Email: marketing@matchmove.com
Leonard Tan
Director, Marketing & Communications
KPMG in Singapore
Email: leonardyttan@kpmg.com.sg
Nelly Jimron
Senior Vice President
MatchMove
Email: nelly@matchmove.com